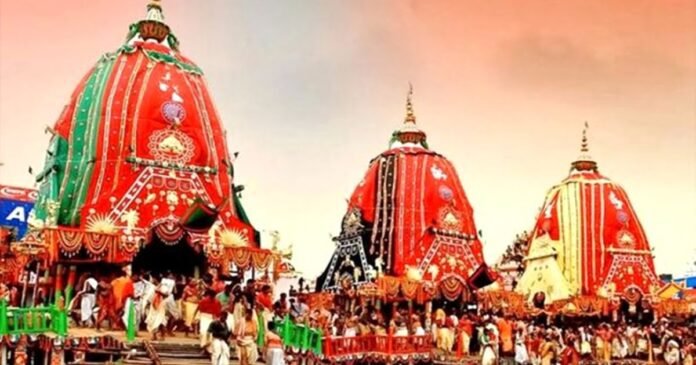 Jagannath Rath Yatra has a special significance in Hinduism. According to the Panchang, every year Jagannath Rath Yatra is taken out on the second day of Shukla Paksha of Ashadh month. This year 'Jagannath Rath Yatra' will start from 12th July and will end on 20th July. Apart from this, it is also a famous festival of Hindus. This Rath Yatra is organized from the Jagannath Temple in Orissa. There is an influx of devotees in this yatra. But, this time due to the Corona epidemic, devotees will not get a chance to participate in this Yatra.
According to the scriptures, Jagannath Rath Yatra is organized along with Lord Jagannath, an incarnation of Lord Vishnu, his brother Balabhadra and sister Goddess Subhadra. The huge chariot of Lord Jagannath, his brother Balabhadra and sister Goddess Subhadra goes out for 10 days. Balabhadra's chariot moves in the forefront of this journey, which is called 'Taldhwaj'. In the middle runs the chariot of Subhadra, which is called 'Darpadalan' or 'Padma Ratha'. Lastly, the chariot of Lord Jagannath moves, which is called 'Nandi Ghosh'. In such a situation, let's know some special things about this great festival…
According to the beliefs, the water of the well from which Lord Jagannath is bathed on the full moon day of the month of Jeth. It opens only once a year on this holy date. Water is drawn from the well and it is closed again. The Lord is always bathed with water in 108 pots in the bath.

Lord Jagannath's chariot is called 'Nandighosh', whose height is 45.6 feet. Balarama's chariot is named 'Tala Dhwaja' and is 45 feet in height, while Subhadra's Darpadalana is 44.6 feet high. The construction of new chariots starts from Akshaya Tritiya. New chariots are made every year. It is said that no nails or any other metal are used in making these chariots.
It is also said that every year the idols of Lord Jagannath along with Balabhadra and Subhadra are made from neem wood. Special attention is also paid to the colors in this. Due to the dark complexion of Lord Jagannath, the same neem wood was used which is of dark color. At the same time, due to the color of his siblings being fair, his idols are used light-colored neem wood.
According to the pundits, the construction and size of the chariot of the three variables. The chariot is made from coconut wood. The chariot of Lord Jagannath is bigger than other chariots and is reddish-yellow in color. The chariot of Lord Jagannath follows first, followed by Balabhadra and then Subhadra.