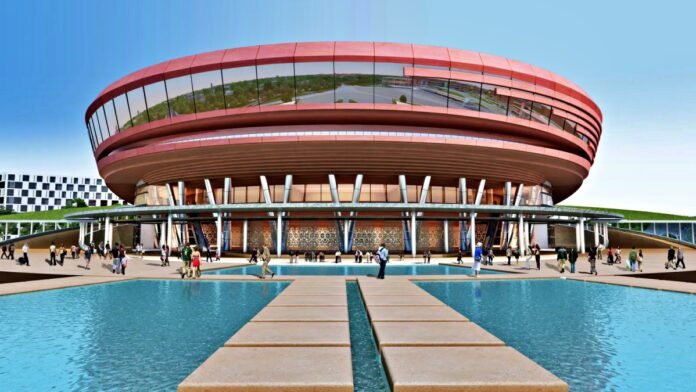 New Delhi: The ITPO complex, also known as the Pragati Maidan complex, is a sprawling exhibition and convention center located in New Delhi, India. It has been redeveloped and modernized to host the G20 leaders' meeting in September 2023.
The redeveloped complex, which will be inaugurated by Prime Minister Narendra Modi on July 26, 2023, is set to become a new landmark for Delhi and a world-class venue for hosting large-scale events, trade fairs, conferences, and exhibitions.
The complex covers an area of approximately 123 acres and comprises a mega convention center with four levels, 24 meeting rooms, two auditoriums, and another two halls. It also has an amphitheater with a seating capacity of 3,000, which is equivalent to three PVR theatres combined.
The convention center has a grand seating capacity of 7,000 at Level-3, which surpasses that of the iconic Sydney Opera House in Australia. It is well-equipped to host mega conferences, international summits, and cultural extravaganzas, establishing itself as a venue of global significance.
The complex also has seven innovative exhibition halls, providing a perfect platform for exhibitors and companies to showcase their products, innovations, and ideas, thus fostering business growth and networking opportunities. The exhibition halls offer a covered space of 65,000 square meters, which ranks among the top 10 exhibition and convention centers worldwide.
The complex is designed with state-of-the-art facilities, green features, and aesthetic appeal. It has a unique roof structure that resembles the petals of a lotus flower. It also has solar panels, rainwater harvesting systems, and energy-efficient lighting systems. It has a spacious lobby, a food court, a business center, and a media center. It also has ample parking space for over 4,800 vehicles.
The complex is strategically located in the heart of Delhi, with easy access to the airport, railway stations, and metro stations. It is also close to several tourist attractions, such as the India Gate, the Red Fort, and the Lotus Temple. It is expected to boost the tourism potential of Delhi and attract more visitors from across the world.
The complex is a testimony to India's capability to host world-class events on a grand scale and to showcase its economic and cultural prowess to the global community. It is also a tribute to the legacy of Pragati Maidan, which has long been an iconic venue for promoting industrial growth, trade and cultural exchange in India since 1972.