New Delhi: The Indian indigenous Aircraft Carrier will soon join the Navy to rein in China's rift in the sea. Indian Navy's Carrier Battle Group is stationed in the Arabian Sea to deal with Pakistan, but to maintain its strength on the Bay of Bengal and the Indian Ocean area, another Carrier Battle Group will be deployed soon. In this regard, Defense Minister Rajnath Singh reached Kochi to review the progress of construction of India's first indigenous aircraft carrier IAC-1.
After the formation of this aircraft carrier, India will be included in the few countries in the world that have the technology to build aircraft carriers. This aircraft carrier harbor trials and basin trials were completed at the Kochi shipping yard only last year. That is, before sea trials, all the equipment in the ship is checked whether they are working properly or not.
Soon IAC-1 will come out of sea trial soon
Due to Corona, there was a slight delay in its sea trial, but it is believed that soon IAC-1 will come out of the sea trial soon. The indigenous aircraft carrier will be named after the retired aircraft INS Vikrant from the Indian Navy. Talking about the merits of this aircraft carrier, its total length is 262 meters. Its construction started in February 2009 at the Cochin Shipyard.
26 fighter aircraft and 10 helicopters can be kept in this carrier. The Indian Navy currently has only MiG-29K fighters that can fly from aircraft carriers. Apart from this, the Navy version of Swadesh Tejas is also being prepared for this.
India needs another aircraft carrier
Talking about helicopters, apart from the American Romeo helicopter, Sea King and indigenous Advanced Light Helicopter Dhruv can also be deployed on this carrier. It is expected that it will join the Indian Navy by the year 2023. At present, the Indian Navy has an aircraft carrier INS Vikramaditya.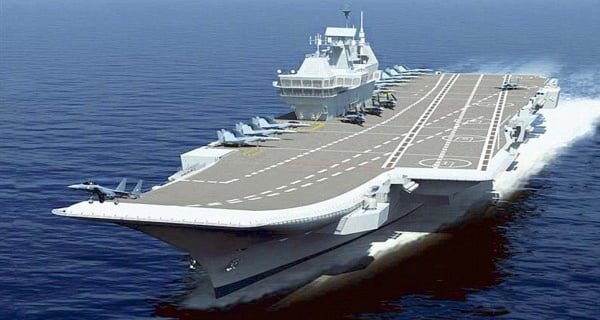 They are stationed at Karwar on the western seaboard while India needs another aircraft carrier that can be placed at Visakhapatnam on the eastern seaboard. India needs at least three aircraft carriers because whenever a carrier has gone for repair, at least two aircraft carriers are serving their services.
During his visit to Karwar, Defense Minister Rajnath Singh described the indigenous aircraft carrier Vikrant as a great example of the Navy's self-reliance efforts. Defense Minister Rajnath Singh reviewed the development works of Karwar Naval Base under Project Seabird. On this occasion, Rajnath Singh closely understood the activities related to every construction and also met the marines there. The Defense Minister also said that Karwar will be Asia's largest naval base in the coming days, which will further strengthen the operational preparedness of the Indian Army.