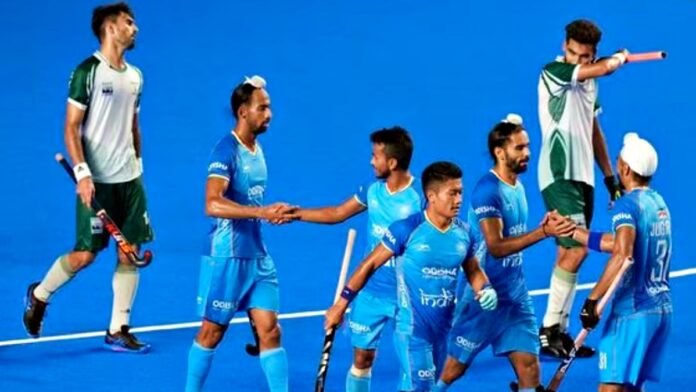 Chennai: The Indian men's hockey team beat Pakistan 4-0 in their final group match of the Asian Champions Trophy 2023 at the Mayor Radhakrishnan Stadium in Chennai on Wednesday. India defeated Pakistan in the last match of the round-robin league of the Asian Champions Trophy hockey tournament. The Indian team defeated Pakistan by 4-0. With the help of captain Harmanpreet Singh's two goals, India managed to dominate the arch-rivals. With this, the team has also made it to the semi-finals.
It is noteworthy that after the defeat against India, Pakistan is out of the race for the semi-finals, while Japan reached the last four by finishing in fourth place. India will take on Japan in Friday's semi-final, while the first semi-final will be between second-placed Malaysia and third-placed South Korea.
India also beat Pakistan 4-3 in a thrilling playoff match to win the bronze medal at the Asian Champions Trophy 2021 in Dhaka on Wednesday, December 22, 2021. The match went down to the wire with both teams going full throttle against each other. Manpreet Singh, Dilpreet Singh, Gurjant Singh, and Nilakanta Sharma scored for India, while Muhammad Rizwan Sr., Ali Shan, and Mubashar Ali scored for Pakistan.