Mumbai: Heavy rains continue in Mumbai and surrounding areas of Maharashtra. Due to rain, local trains and bus services have been disrupted due to waterlogging on railway tracks and roads in Mumbai. Trees have fallen in many parts of the city. Due to waterlogging in many places, people are also facing long traffic jams. The Meteorological Department had issued a red alert for Wednesday in view of rain. Rainwater has entered many areas of Mumbai. At the same time, winds are running at a speed of 107 km per hour in Colaba, South Mumbai.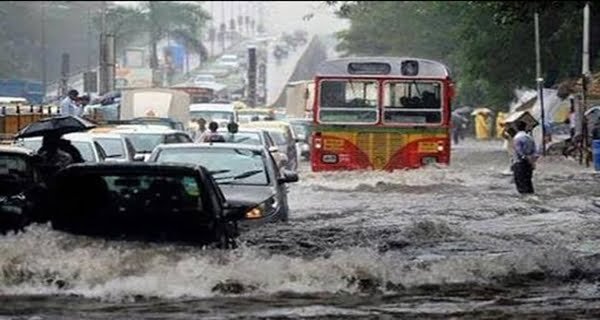 Waterlogging has also occurred at JJ Hospital in Mumbai, the most affected city in the country due to Coronavirus. JJ Hospital in Mumbai is very important in the hospitals decided by BMC for the treatment of Covid-19. Staff of the hospital are trying to extract water with the help of buckets, wipers and other equipment. At the same time, the Timardar present in the hospital is capturing this entire incident in the camera. Video of water filling in Nair Hospital of Mumbai has also surfaced.
At the same time, Aditya Thackeray, a cabinet minister in the Maharashtra government and son of the state's Chief Minister Uddhav Thackeray, has appealed to the people not to move out of the houses. Aditya tweeted and wrote- 'I request everyone to stay indoors. As we are all seeing, Mumbai is surrounded by fast-moving winds and extremely heavy rains. I appeal to all of you, especially the journalists who are covering it, to be safe. Wherever you are, stay there.
Heavy rains continue now
Let us know that the rains continue with strong winds in Mumbai. In many parts of the country's financial capital, the branches of trees have fallen and fallen, while elsewhere entire trees have been uprooted from the ground. The Meteorological Department has expressed the apprehension that presently strong winds are blowing in Mumbai at a speed of 70 kmph and it is likely to continue during the next 3-4 hours. There may be heavy rain in the city in the next 3 hours.