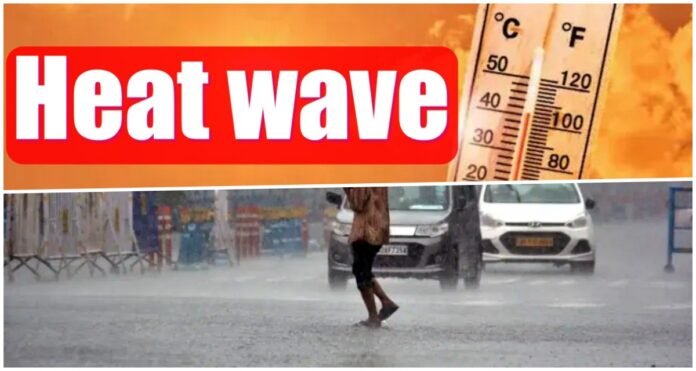 New Delhi: The situation of heat and humidity has returned in the capital Delhi. The Meteorological Department has issued a 'yellow' alert in most parts of Delhi on Saturday, giving a warning of a heatwave. The mercury is again expected to cross 45 degrees Celsius on Sunday. Meteorologists have said that the temperature can reach 46-47 degrees Celsius in different places.
People are experiencing high temperatures in most parts of North India. The maximum temperature in some parts of Rajasthan touched the 48 degrees Celsius mark on Friday. At least 29 cities of Rajasthan, Haryana, Gujarat, Madhya Pradesh, and Maharashtra recorded temperatures above 44 degrees Celsius.
Southwest monsoon will come soon
Meanwhile, the Indian Meteorological Department has said that the southwest monsoon is expected to arrive early this time and the Andaman and Nicobar Islands may receive the first rains on May 15. The IMD has also predicted the onset of monsoon in Kerala this time around 10 days before its scheduled time of June 1 and then move northwards.
Rain alert in South and Northeast
According to the Meteorological Department, it has been predicted from the current conditions that there will be heavy rains in the Andaman and Nicobar Islands and Kerala in the next 5 days. Rain is also forecast in Tamil Nadu, Puducherry, and Karaikal in the next 48 hours. In the Northeast, heavy rains are likely over Assam, Arunachal Pradesh, Tripura, Nagaland, Manipur, and Meghalaya till May 17.
Heatwave conditions will prevail over North India
At the same time, the condition of heatwaves will remain in different parts of Uttar Pradesh and Madhya Pradesh. There is no hope of relief from severe heat in Gujarat, Jammu, and Kashmir, South Haryana-Delhi, and Punjab. Heatwave conditions will prevail in most parts of Rajasthan for the next 3 days. During this, the mercury is expected to reach 48 degrees Celsius in many places.