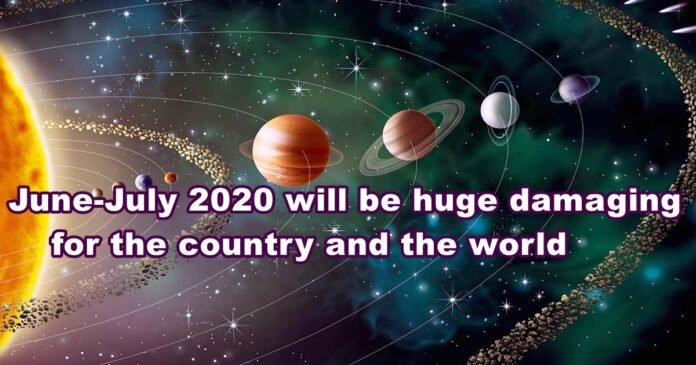 The pandemic corona is rising to its peak right now, Mars-Saturn-Guru's war in Capricorn was dissolved with the entry of Mars into Aquarius, the relief with the collapse of this pair, assessing the expectation started.
But this relief is not even so great that the corona collapses. Planet transits are pointing to something different.
One will face three eclipses in a month,
There will be 2 lunar eclipses and 1 solar eclipse in mid-July.
Both lunar eclipses will be sub-shadows (honorable) which will take place on the intervening night of June 5-6 and July 5 respectively, the same Kankanakriti solar eclipse will occur on June 21.
On June 21, the eclipse of Ashadha month, Mrigashirsha Nakshatra, will be in Gemini, this eclipse will be seen in some cities of India, Bangladesh, Bhutan, Sri Lanka.
According to the scriptures, if two or more eclipses occur in the middle of a month, then the king gets to suffer, a rebellion in the army, a serious economic problem.
There is a clear mention in the Samhita texts that if this situation prevails in the month of Aashaadh, then livelihood attacks and damage to China etc. are possible. The impact of all three eclipses will be harmful for the world.
Any harsh decision on China at the global level can take the whole world towards the Cold War.
Overall, the concern over the economy over the June-July virus may cause trouble between the US-China differences.
This eclipse will appear as Kankanakriti in some parts of North Rajasthan, Punjab, Northern Haryana, Uttarakhand and Khand Grass in rest of India,
In Varanasi (Benaras), the eclipse touch (start) will be at 10.31 am, mid-12.18 and salvation (end) at 02.04 pm. Eclipse thread date 20 June, night 10.31. Will start at
Eclipse effect on different zodiac signs
This eclipse is auspicious for Aries, Leo, Virgo and Capricorn.
At the same time, this eclipse is inauspicious for Gemini, Cancer, Scorpio and Pisces.
This eclipse will be mixed for Taurus, Libra, Sagittarius, and Aquarius sign.
One planet after another will get retrograde
Planet retrograde zodiac
Thursday 14 May to 12 September Capricorn
Sat 11 May to 29 September Capricorn
Mercury 18 June to 11 July Gemini
Venus 13 May to 24 June Taurus
Rahu and Ketu remain the same Gemini and Sagittarius
In the coming time, one by five planets can change their speed and can wreak havoc in the country and abroad.
Rahu is retrograde in Gemini, he will be Saturn on May 11 and Guru on Capricorn on May 14. From May 13, Venus will also be retrograde in these Taurus zodiacs. Mercury will be retroactive to Gemini from June 18 to work with these four retrograde planets.
What is the effect of retrograde planets
According to the Samhita texts, if a planet moves opposite its natural speed on opposite side, it is called Vakri.
Although Rahu Ketu has a natural speed curve. The coming June-July can be very painful. Reclamation of five planets can disturb life.
The presence of two major planets Saturn and Guru together in Capricorn can cause turmoil in western countries. Capricorn is the sign of Saturn and is a low zodiac sign of Guru. Economy of the world can go through the mutual conflict between the two planets.
There may be a record decline in the stock market. The five planets can affect three zodiac signs, Taurus, Gemini and Capricorn will be affected. Which is most important
Varshish Mercury is retrograde in Gemini, transitivity can reach its peak level due to Mercury retrograde in Gemini sign.
There are also signs of increasing natural disaster and infectious disease.