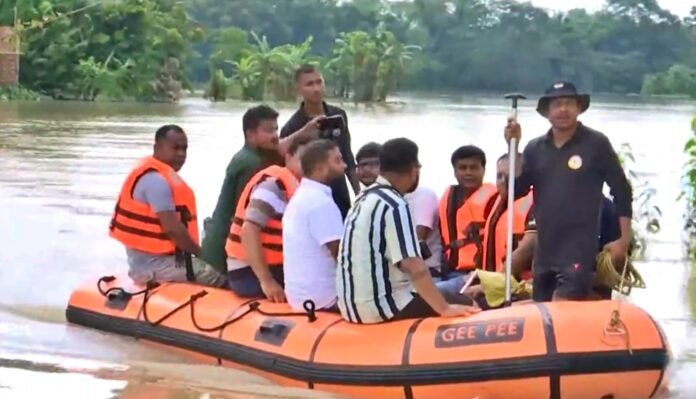 Guwahati: The flood situation in Assam remained serious even on Sunday. More than four lakh people in nine districts have been affected by this devastating flood. However, the flood water has now started receding slowly. Regarding the flood, the government has intensified the relief work. The National Disaster Relief Force has been deployed. Home Minister Amit Shah spoke to CM Himanta Biswa Sarma and assured all possible help.
In view of the flood situation, 10 teams of the National Disaster Response Force (NDRF) have been deployed in the flood-affected districts of Assam in coordination with the state and district administration. NDRF teams are carrying out rescue and evacuation work from low-lying areas. Facing many difficult challenges, NDRF has so far evacuated more than 123 people and many cattle to a safe place. The lives of 11 people have been saved during the rescue. The teams have also assisted local authorities in the distribution of relief materials.
Now the situation is improving in Assam
At present, the flood situation in Assam is under control. Teams are doing Reiki in low-lying areas. The control room at DG HQ NDRF is closely monitoring the situation and remains in coordination with concerned authorities, and stakeholders. The state of Assam is facing floods and landslides, pre-monsoon rains, and post-southwest monsoon 2023 rains.
Flood havoc in these districts
Nalbari, Baksa, Barpeta, Kamrup Rural, Dhubri, Chirang, Darrang, Dibrugarh, and Dhemajai are the most affected districts of Assam. It is from here that most of the flood-like situation has been reported in the last few days.