Uttarkashi: The rescue operation to save 41 workers trapped in the Silkyara tunnel in Uttarkashi, Uttarakhand, achieved a major breakthrough on Tuesday. The rescue team has managed to capture the first picture of the workers, who have been stuck inside the tunnel since November 12, after a part of it collapsed due to a landslide. The picture shows the workers sitting on the floor of the tunnel, wearing helmets and jackets, and holding placards with their names and phone numbers. The workers are reported to be in good health and spirits, as they have been receiving oxygen, food, water, medicines, and communication equipment through pipes inserted by the rescue team.
The workers, who are engaged in the construction of the tunnel under the Yamunotri National Highway project, were trapped when a huge mass of debris blocked the entrance of the tunnel on November 12. The rescue team, comprising the National Highways and Infrastructure Development Corporation Limited (NHIDCL), the Border Roads Organisation (BRO), the Indian Army, and the State Disaster Response Force (SDRF), has been working around the clock to clear the debris and reach the workers.
The rescue team has been using various methods, such as drilling, blasting, cutting, and digging, to create a passage through the debris, which is estimated to be about 100 meters long and 20 meters high. The team has also been using cameras and sensors to locate the workers and monitor their condition. The team has also been providing psychological support to the workers, who have been in constant touch with their families and the authorities through walkie-talkies and mobile phones.
The rescue team has expressed hope that the workers will be brought out safely soon, as they have started vertical drilling from the top of the tunnel to create a shaft. The vertical drilling, which is expected to take about two days, will enable the rescue team to lower a cage and lift the workers one by one. The rescue team has also prepared a medical camp and an ambulance near the tunnel to provide immediate medical attention to the workers.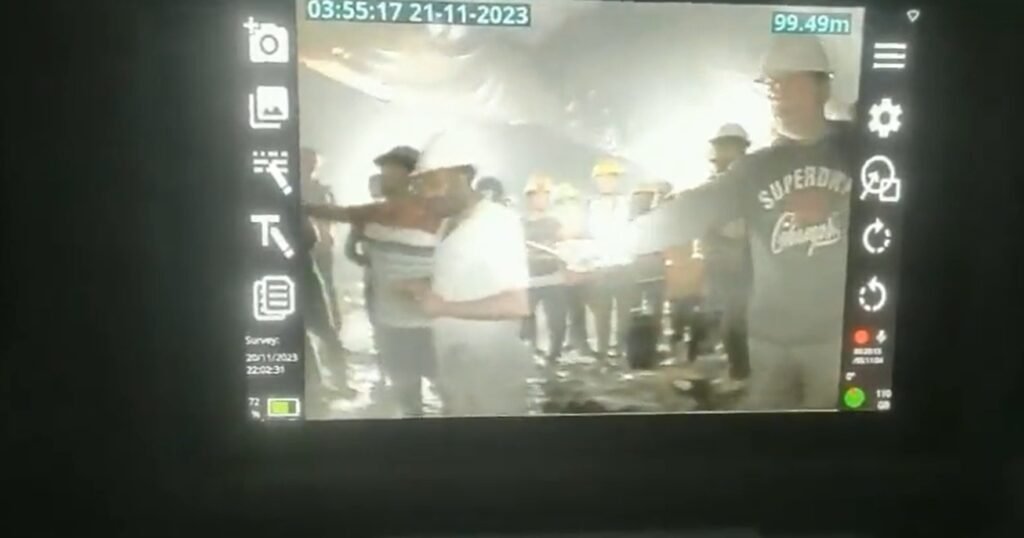 The incident has triggered a political controversy in the state, as the opposition parties have accused the ruling BJP government of negligence and mismanagement. The opposition parties have also demanded a high-level inquiry into the cause of the tunnel collapse and the delay in the rescue operation. The state government has defended its actions and said that it has been doing everything possible to rescue the workers and provide relief to their families. The state government has also announced a compensation of Rs 10 lakh each to the families of the trapped workers.