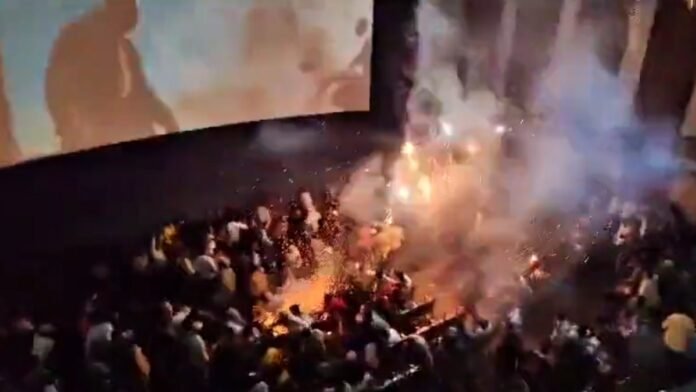 Mumbai: The release of Salman Khan, Katrina Kaif, and Emraan Hashmi starrer 'Tiger 3' on Diwali has created a frenzy among the fans of the action-thriller. The film, which is the third installment of the 'Tiger' franchise and the fifth film of the YRF Spy Universe, has collected over Rs 44 crore on its opening day, making it one of the biggest openers of 2023. However, some fans have gone overboard in expressing their excitement and enthusiasm for the film.
A shocking video has surfaced online, showing some fans bursting firecrackers inside a cinema hall in Malegaon, Maharashtra, during the screening of 'Tiger 3'. The video, which was shared on X (formerly known as Twitter), shows sparks flying across the hall as the fans light up the crackers, creating a Diwali-like atmosphere. However, the stunt also caused panic and chaos among the other moviegoers, who can be seen running towards the exit to save themselves from the possible fire hazard.
The incident took place at Mohan Cinema Hall in Malegaon, which is one of the most popular theatres in the town. According to reports, the incident happened between the 9 pm to 12 am show on Diwali night. As soon as the film started, some fans started setting off the crackers, ignoring the safety and security of themselves and others. The video also shows some fans cheering and whistling, while others are trying to escape the smoke and noise.
The Malegaon police have taken cognizance of the matter and have launched an investigation. The police have obtained the video and are trying to identify the culprits. The police will also investigate whether there was only one person or several people involved in the fireworks. The police will take action against the accused only after the investigation. The police have also warned the cinema hall owners and the public to refrain from such irresponsible and dangerous acts in the future.
'Tiger 3' is directed by Maneesh Sharma and produced by Aditya Chopra. The film features Salman Khan and Katrina Kaif reprising their roles as Avinash Singh Rathore aka Tiger and Zoya Humaini, respectively. Emraan Hashmi plays the role of the main antagonist, Omar. The film also has cameo appearances by Shah Rukh Khan and Hrithik Roshan, who are part of the YRF Spy Universe. The film has received mostly positive reviews from critics and fans, who have praised the action sequences, the performances, and the music of the film.