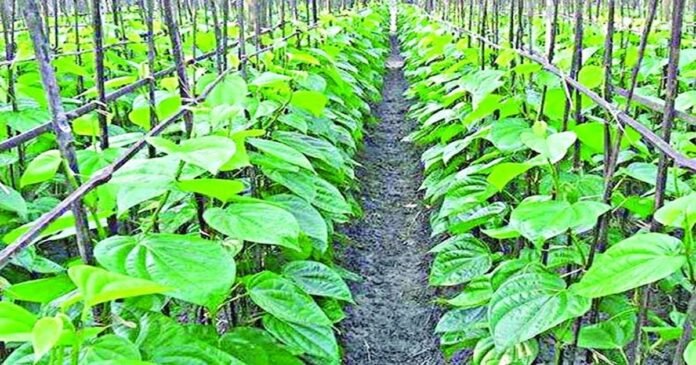 Jabalpur(MP): surrounding Jabalpur are has suffered huge losses in the betel crop during the lockdown period, the concern of the farmers at the present time is being clearly reflected on the betel farmers who have made betel leaves of Gandhigram. Farmers are eagerly waiting for the monsoon. Due to the scorching sun and the scorching heat, there is a huge water crisis in the Pan crop in the Pan Farms located here. Due to heat, irrigation facilities of betel crops have become waterless. To save the betel crop, farmers are trying to save by buying water from the farm bore at expensive prices.
Among the major paan barges of Gandhigram, the wells of Pandit Barre, Malha Barreja, Devanagar Barre, Shahra, Bangra, Khaparahiya, Babaji Pan Barjo have completely dried up. Pan farmers said that they used to irrigate betel crops only with water wells, but due to the scorching heat, the water wells have become waterless. Pan farmers told that due to lack of water, new and old betel vines have started to fade from the effects of heat. The betel leaves have started falling before coming into the new vines.
Farmers' trouble: Two thousand shifts wither in Gandhigram, Devnagar, crops by buying water from field bore Are trying to save Pan farmers including Bhagat Chaurasia, Ravi Chaurasia, Hari Chaurasia, Ram Milan Chaurasia, Ram Vishal, Khemchand, Bhupendra Chaurasia, Dinesh, Ramcharan Chaurasia, Rajendra Chaurasia, Vijay Chaurasia, etc. Paan farmers of the Chaurasia society told that the reason of lack of water in the wells A very dire situation has arisen. Feeding farmers said that for the management of water, they themselves have dug the wells from 5 to 6 feet, so little water came out which dried up in two days.
Heavy demand in outside Markets (mandis): Bungalow Pan: A relatively large bungalow in the Pan Barges of Gandhigram, Pan is one of the famous pan markets (mandis) of the country. Gandhi village's Bengali Paan is the pride of Pan Mandis for sale and sale in Banarsalkhanu, Jhansi in Uttar Pradesh, Sagar, Damoh, Katni, Maihar, Satna, Rewa, Sidhi, Mandla, Narsihpur, Hoshangabad, Itarsi, Jabalpur, etc.