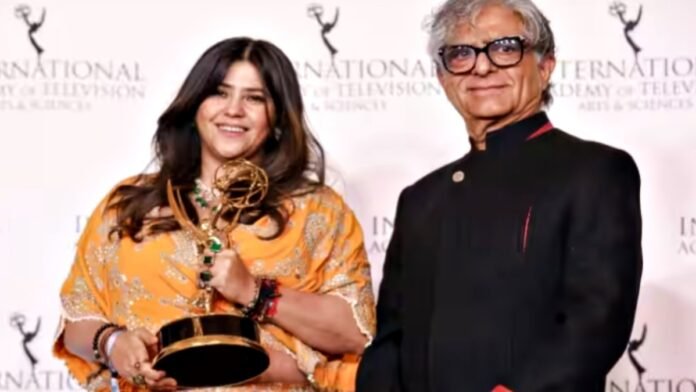 Mumbai: Ekta Kapoor, the prolific content producer across television, films, and OTT platforms, has achieved a remarkable feat in her illustrious career. She was conferred the prestigious International Emmy Directorate Award at the 51st International Emmy Awards ceremony in New York. She is the first Indian woman filmmaker to receive this honor, which recognizes her unique and impactful contribution to the entertainment industry.
The award was presented to her by renowned author and new age leader, Deepak Chopra, who praised her for her vision and creativity. Ekta expressed her happiness and gratitude for the recognition and said that she has always wanted to tell stories that give her an opportunity to be heard, seen, and represented. She thanked the audience for their love and support, which enabled her to explore different mediums and genres of storytelling. She said that every story she has told has become a bridge to connect with the audience on various levels. She also said that she is determined to make a positive impact on the audience through her work.
The International Emmy Directorate Award reflects Ekta's ability to innovate and excel in the entertainment industry. She has already been awarded the Padmashree, the fourth-highest civilian honor in India, for her excellence in this field. She continues to be an inspiration for women in the industry and a leader in creating content that appeals to her audience's diverse and dynamic tastes and preferences. She has been at the forefront of the entertainment industry for over a decade and has produced several successful shows and films across different platforms.