New Delhi: The Ministry of Health has written a letter to all states and union territories and issued a warning against wearing of N-95 mask Latest News, that it does not stop the spread of the virus and it Covid-19 is the 'opposite' of the steps taken to stop the epidemic.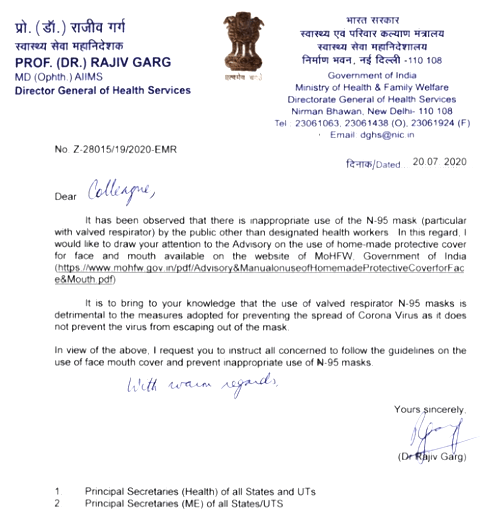 Rajiv Garg, Director General of Health Services in the Ministry of Health, has written a letter to the Principal Secretaries of Health and Medical Education, states that it has come to light that instead of authorized health workers, people are 'improper use' of N-95 masks, especially their Which has perforated respirator. "It is brought to your notice that the N-95 mask fitted with perforated respirator is contrary to the steps adopted to prevent the spread of coronavirus as it does not prevent the virus from coming out of the mask." In view of this, I urge you to instruct all concerned to follow the use of face/mouth cover and prevent the improper use of N-95 mask. '
Explain that people are using N-95 masks extensively. This warning of the government has become important in the wake of the growing Corona case in the country. Following the government's order, the use of masks without holes can now increase. There have been around 11.5 million corona cases in the country, while more than 28 thousand people have died due to this deadly disease.
The Center issued an advisory in April asking people to use homemade masks and cover their faces and noses. The Center had said that when people come out of their houses, they should cover their nose and mouth. The advice of the Center said that such masks would have to be washed every day. Apart from this, the cotton cloth can also be used.