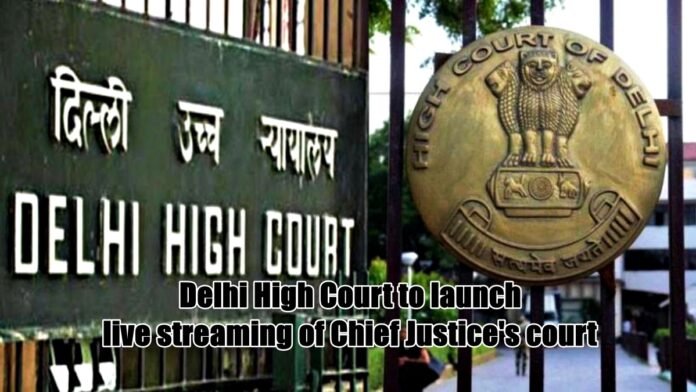 New Delhi: In a landmark move to enhance access to justice, the Delhi High Court has decided to start live streaming the court proceedings of its Chief Justice's court from October 11, 2023. The public will be able to watch the live telecast of the cases heard by the division bench of Chief Justice Satish Chandra Sharma and Justice Sanjeev Narula on the official website of the Delhi High Court.
A press release issued by the Delhi High Court on Monday said that the live streaming link will be available on the home page of the website under the title "LIVE STREAMING". It said that for now, the live streaming of court proceedings will be conducted on a case-to-case basis, as per the directions of the court. It also clarified that the live streaming or archival data will not constitute the official record of the court proceedings and will be for information purposes only.
The press release further stated that no person or entity, including print and electronic media and social media platforms, other than an authorized person or entity, shall record, share, or disseminate live-streamed proceedings or archival data. It also noted that all the courts of the Delhi High Court are functioning as paperless e-courts with the facility of video conference or hybrid hearing and all the cases, replies, rejoinders, documents, etc. are e-filed through an online e-filing system only.
The decision to start live streaming of court proceedings is in line with the Supreme Court's judgment in Swapnil Tripathi v. Supreme Court of India, which held that live streaming of court proceedings is part of the right to access justice under Article 21 of the Constitution. The Supreme Court had also laid down certain guidelines and safeguards for live streaming, such as excluding sensitive matters, ensuring the privacy and dignity of litigants and witnesses, and imposing reasonable restrictions on recording and dissemination.
The Delhi High Court is one of the first high courts in India to initiate live streaming of court proceedings. Earlier, the Gujarat High Court had started live-streaming of its Chief Justice's court on October 26, 2020. The Bombay High Court had also launched a pilot project for live streaming of two courtrooms from September 14, 2020. The Kerala High Court had also announced its decision to start live-streaming of court proceedings in November 2020, but it was later deferred due to technical issues.
The live streaming of court proceedings is expected to increase transparency, accountability, public confidence, and legal education in the judicial system. It will also enable litigants, lawyers, law students, journalists, and researchers to access and observe the functioning of courts from anywhere. It will also reduce overcrowding and inconvenience in courts and ensure compliance with Covid-19 protocols.