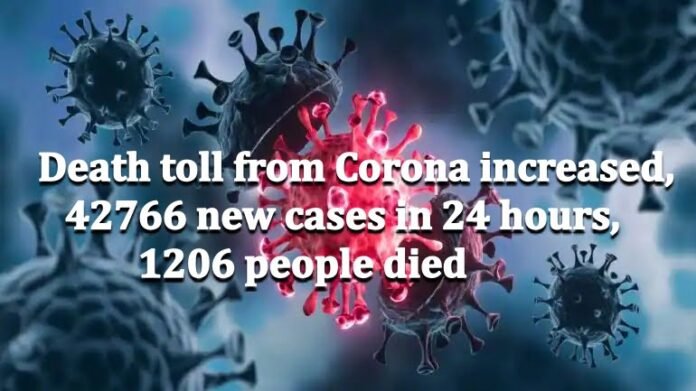 New Delhi: Now the speed of Coronavirus infection is decreasing in the country. For the last several days, the number of new cases of corona infection (Covid 19) has been decreasing, but the death figures are now starting to scare. According to the data released by the Ministry of Health on Saturday, 42,766 new cases of coronavirus infection have been reported in the country in the last 24 hours. In the same period, 1206 people have died in the country due to Covid 19.
In the last 24 hours, 45,254 people have been discharged from the hospital in the country. So far, a total of more than 2.99 crore people have defeated Corona in the country. After the data released on Saturday, the total cases of corona infection in the country have now increased to 3,07,95,716. At the same time, the total death toll in the country has now increased to 4,07,145. At present, the total number of active cases of corona in India is now 4,55,033.
At the same time, the government has said on Friday that no case of lambda form of SARS-CoV-2 has been reported in India so far. Joint Secretary in the Health Ministry Lav Agarwal said that the Indian SARS-CoV-2 Genomics Consortium (INSACOG) is closely monitoring the pattern.
Lambda virus was the seventh variant identified by WHO (World Health Organization) on June 14 and has been detected in 25 countries. NITI Aayog Member (Health) Dr. VK Paul said that the lambda pattern needs attention and hence it is being explored.
The vaccination campaign is also going on in the country to defeat Corona. The Health Ministry said on Friday that more than 37 crore doses of the Covid-19 vaccine have been given in the country so far. According to the interim report received till 7 pm, 27.86 lakh doses of the Covid-19 vaccine were given on Friday.
The ministry said that on Friday, 13,28,636 people were given the first dose of the vaccine and 1,24,570 people were given the second dose out of the age group of 18 to 44 years. Since the start of the third phase of vaccination, 10,98,62,585 people in the age group of 18 to 44 years have been given the first dose and 35,08,932 people have been given the second dose.