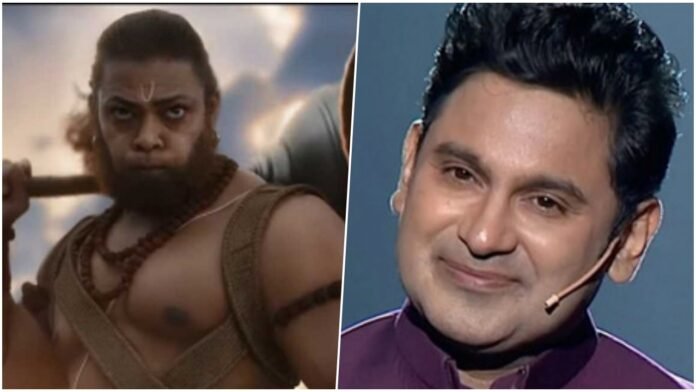 New Delhi: Prabhas, Kriti Sanon, and Saif Ali Khan starrer 'Adipurush' is facing tremendous outrage from the audience only after its release. People's sentiments are being hurt by dialogues like 'Jalegi teri baap ki' from Lord Shri Ram's beloved Hanuman ji. Director Om Raut has already made Lankesh, Raghav, and Janaki look gritty. Now its writer Manoj Muntashir is the target of the people because of his road-print dialogues. After the release of the film, Manoj first tried to justify his writing with absurd arguments, but even that did not calm the anger of the people. Now Manoj says that he is ready to change the dialogue keeping in mind the sentiments of the people. He himself has given this information through Twitter.
Manoj wrote on Twitter, the first lesson one can learn from Ram Katha is to respect every emotion. Right or wrong, time changes, and feeling remains. I wrote dialogues of more than 4000 lines in Adipurush, some sentiments got hurt on 5 lines. In those hundreds of lines, where Shri Ram was praised, Maa Sita's chastity was described, and praise was also to be received for her, which I don't know why I did not get. My own brothers wrote indecent words for me on social media. The same my own, for whose respected mothers I read poems many times on TV, addressed my own mother with indecent words. I kept thinking, there can be differences, but where did my brothers suddenly get so bitter that they forgot to see Shri Ram who considered every mother as his mother? Sitting at the feet of Shabri, as if sitting at the feet of Kaushalya.
Manoj Muntashir further wrote in his tweet, 'Maybe, in a 3-hour film, I have written something different from your imagination for 3 minutes, but why did you hurry to write Sanatan-Drohi on my forehead, I could not know. Have you not heard the song 'Jai Shri Ram', 'Shivoham', 'Ram Siya Ram'? These praises of Sanatan in Adipurush are also born from my pen. I have also written 'Teri Mitti' and 'Desh Mere'. I have no complaint with you, you were, are, and will be my own. If we stand against each other, Sanatan will lose. We have created Adipurush for Sanatan Seva, which you are seeing in large numbers and I am sure you will see it in the future as well.