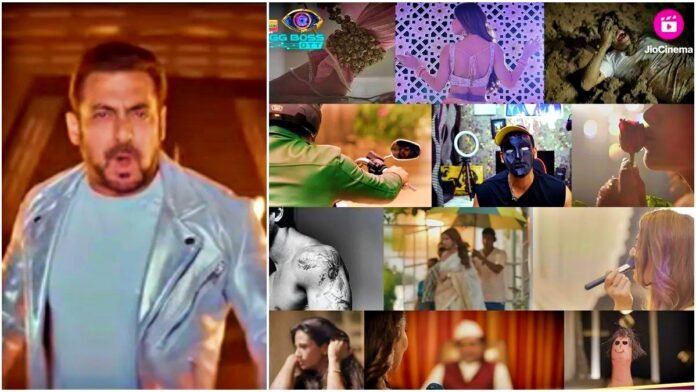 Mumbai: Ever since the announcement of Bigg Boss OTT 2, viewers were eagerly waiting to know the first glimpse and names of the contestants. Which is over now. Yes, Jio Cinema and Voot Select have revealed the names of the contestants of 'Bigg Boss OTT Season 2' along with showing the first glimpse of the contestants of Bigg Boss OTT 2.
The list of contestants of Bigg Boss OTT 2 includes the names of many people like Akanksha Puri, Nawazuddin Siddiqui's wife Aaliya Siddiqui, and Sheezan Khan's sister Falaq Naaz. Where the first season of this show was hosted by Karan Johar. At the same time, Bollywood's Bhaijaan Salman Khan is ready to host its second season. On the other hand, in Bigg Boss OTT 2, a lot of uproars will be seen among a total of 13 contestants.
This season will see many firsts, along with taglines and monikers. So let's know the names of those 13 contestants who will wage a great war in the show. According to reports, the first contestant of the show is Akanksha Puri who is #TeekhiPuri, Nawazuddin Siddiqui's wife Alia Siddiqui #Breaking News, Falak Naaz #Womaniya, Avinash Sachdev #Hero No.1, Abhishek Malhani #Insaan, JD Hadid #Habibi, Jia Shankar #Heroine, Manisha Rani #One Piece, Palak Purswani, Bebika Dhruv, Puneet Superstar, Cyrus Broacha and Shruti Sinha will be #DramaQueen. Let us tell you that Bigg Boss OTT 2 will be on air on 17th June. Viewers will be able to watch on Jio Cinema and Voot Select.
1. Sambhavna Seth

2. Pooja Gor

3. Anjali Arora

4. Jiya Shankar

5. Poonam Pandey

6. Rajeeev Sen

7. Zaid Darbar

8. Munawar Faruqui

9. Fahmaan Khan

10. Aditya Narayan
A post shared by Aditya Narayan Jha (@adityanarayanofficial)

11. Faisal Shaikh

12. Awez Darbar