New Delhi: Despite creating an atmosphere of constant tension on LAC, the dangerous move of China (China), which is failing on every front from India (India), has finally revealed. It is reported that China has established three villages on the Arunachal Pradesh border and has shifted many people to live there. A shocking revelation has been revealed by satellite images which also shows that the dragon has built about 101 houses at this place which are spread over 4.5 kilometers.
According to the NDTV report, the village is located on the banks of the Tsari Chu River in Upper Subansiri district and is the area where there is a long-standing dispute between India and China. This dispute of eastern Ladakh has not been resolved even after several rounds of talks.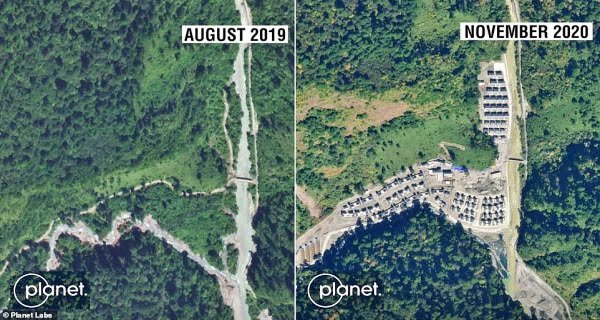 According to earlier reports, China has located a village about 5 kilometers from Buma La Pass near the border of China, Bhutan and India. By the way, China has already claimed its position in this area. Experts believe that this move of China wants to show its presence in the region and strengthen its claims in this area.
Explain that China has been talking about not giving recognition to Arunachal Pradesh. Even in the war of 1962, China had captured some part of this area.
The road is also available for connectivity
According to the report, according to some pictures of Planet Labs on 17 February 2020, there was only one village in this area and there were about 20 houses but in the pictures of 28 November 2020 it is clear that the number of houses is now 50 and now There are three settlements here which are built at a distance of about 1 km from each other. Roads have also been constructed to connect them, which can be used in all seasons.