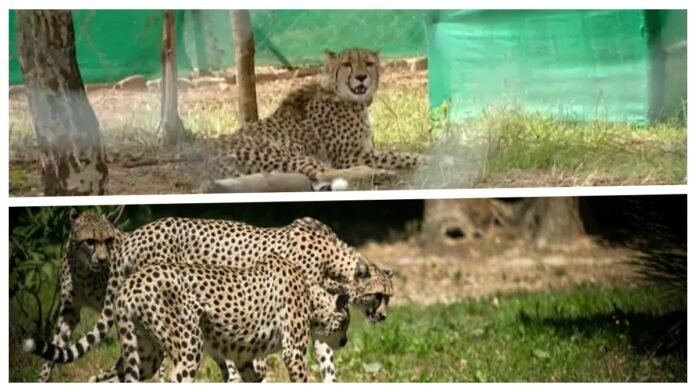 Bhopal: The best care of cheetahs in the world is being done in Kuno National Park. Cheetahs will not be shifted from here. Now the Cheetahs that will be brought to India will be sent to different states. The Government of India has the option of six to seven states.
Rajasthan is also included in this. Dr. Rajesh Gopal, chairman of the Cheetah Project Steering Committee, said this on Tuesday in a joint meeting of officials associated with the Cheetah Project, besides Madhya Pradesh and Uttar Pradesh.
He said that as far as seeing cheetahs for tourists is concerned, when cheetahs are comfortable, only then people will be able to see them. We have been conserving tigers for 50 years, so there is no problem in taking care of cheetahs.
There are currently 14 cheetahs in the open in the Kuno National Park, whose monitoring is a challenge. A team of 12 people is engaged for one cheetah. Orientation workshops and training were also organized in the meeting on the protection and increasing scope of cheetahs. It was decided in the meeting that the number of cheetah friends will be increased to monitor cheetahs in Kuno.
Villagers will be made aware of the Cheetah movement area so that cheetahs crossing the border from other districts to the states do not get harmed. They will be marked as Cheetah Mitra and told not to harm the cheetah, just be careful.
Due to the arrival of cheetahs from Kuno to the UP border, the officials there are also being associated with the project so that their safety can be ensured even there. The National Tiger Conservation Authority (NTCA) will also give equipment to the officials of Uttar Pradesh for the protection of cheetahs.
Cheetah Steering Committee member Dr. HS Negi, Chief Forest Conservator RK Gupta, Chief Wildlife Warden JS Chauhan, NTCA IG Amit Malik, Wildlife scientist Dr. Qamar Qureshi, DIG NTCA Rajendra Garwad, Divisional Commissioner Deepak Singh and officials of Kuno and U.P. And forest officers of Gwalior Chambal were present.