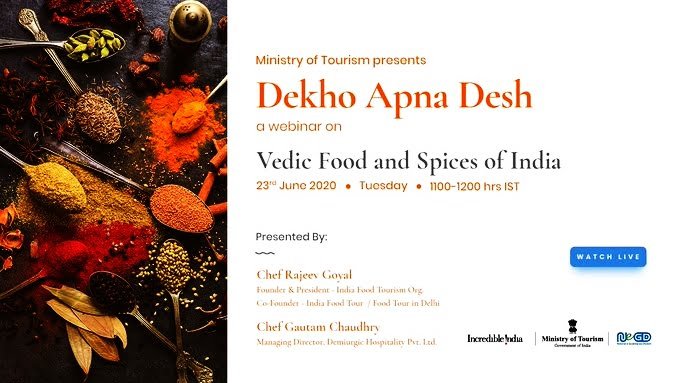 New Delhi: To showcase the benefits about our country's ancient form of health science, Tourism Ministry conducted a webinar on 'Vedic Food and Spices of India' under Dekho Apna Desh webinar series. The webinar focused on the importance of Vedic food and spices of India which remain unexplained to the world and never bridged to modern world cuisines. This session attempted to decode myths about some foods and presented the secret of spices and the technique of preparations in order to inspire the traveller to come, explore and experience.
Dekho Apna Desh Webinar Series is an effort to showcase India's rich diversity under Ek Bharat Shreshtha Bharat. The panelist spoke about the importance of cookware. The benefits of cooking in the Earthenware was highlighted as food prepared in these vessels retains its natural flavour. The heat is also evenly spread and maintained. Copper pot has very good medicinal properties and no bacteria would survive. Iron pan are rich in minerals and food cooked is tasty.
With the COVID-19 pandemic ravaging the country, the Ministry of Tourism conducted a webinar on 'Vedic Food and Spices of India" under a webinar series titled 'Dekho Apna Desh'. The webinar tries to explain the importance of Vedic foods and spices and its benefits most of which it claims the world still doesn't know. The webinar focuses on describing spices and its types, foods its types, and their secrets to promote tourist to experience these new cuisines that are still to a large scale unexplored.
It was the 37th session of the webinar series and was presented by Chef Rajeev Goyal, founder, and president of India Tourism .org and Chef Gautam Chaudhry, Managing Director, Demiurgic Hospitality Pvt. , Ltd. They tried to explain that food and spices were given importance uring the Vedic period with several references in Rig and Yajur Veda. He further said that several sections of the society used to consume foods that were rich in macronutrients
The importance of cookware was also discussed on the show with the pros of cooking food in earthenware being highlighted as the food cooked retains its natural flavours while the cooper vessels have several medicinal benefits. The presenters commented on the fact that there were three Doshas(body elements) called the Kapa, Pitta, and Kapha and every individual has one dominant element in the body.
The next part of the session was focused on how metals used in the pans of the utensils were also important in retaining the healthy benefits of the foods. The Vedic texts also tell to incorporate water-rich fruits and vegetables in the diet so that our bodies always retain the balance body temperature.
The series is broadcasted by the Ministry of Tourism with technical support from the National e-Governance Division (NeGD) under the Ministry of Electronics and Information Technology(MeiTY). The series aims to showcase the rich history and diversity of the country.