New Delhi: The Delhi Police's decision to file an FIR against Wrestling Federation of India (WFI) chief Brij Bhushan Sharan Singh on Friday was described by the wrestlers protesting at Jantar Mantar here as 'first towards victory'. The steps' relaxed me. The wrestler, however, said that they will continue their protest till the Bharatiya Janata Party MP is removed from all his posts.
Solicitor General Tushar Mehta, appearing for Delhi Police, told a Supreme Court bench of Chief Justice DY Chandrachud and Justice PS Narasimha that the FIR would be registered on Friday. Wrestlers, who have accused the WFI chief of sexual harassment and intimidation, have been demanding the registration of an FIR against him ever since they resumed their agitation on April 23.
"This is the first step towards victory, but our protest will continue," Sakshi Malik told reporters at Jantar Mantar." The wrestlers have put up a huge banner at Jantar Mantar listing all the criminal proceedings against Brij Bhushan. Wrestler Vinesh Phogat said Delhi Police took six days to register the FIR and she does not trust the probe agency.
Today the court's decision has come, but we do not trust the Delhi Police. We have been sitting for 6 days. Our next step will be based on the action of the Delhi Police. Our demand is that he (WFI President Brij Bhushan) should be put in jail. I appeal to the PM on the basis of morality that he should be removed from every post. When…
Vinesh, a world championship medallist, said, "They (police) can file a weak FIR. We will watch, observe and then take a decision (on ending the protest). He (Brij Bhushan) should be behind bars and should be removed from all the existing posts, otherwise, he will try to influence the investigation.
Bajrang Punia thanked all the players who supported him on social media. Tokyo Olympics bronze medalist Poonia said, "Two Olympic gold medalists (Neeraj Chopra and Abhinav Bindra) tweeted for us. If such allegations are leveled against the president of any federation then where will the player go? Strict action will be taken against them.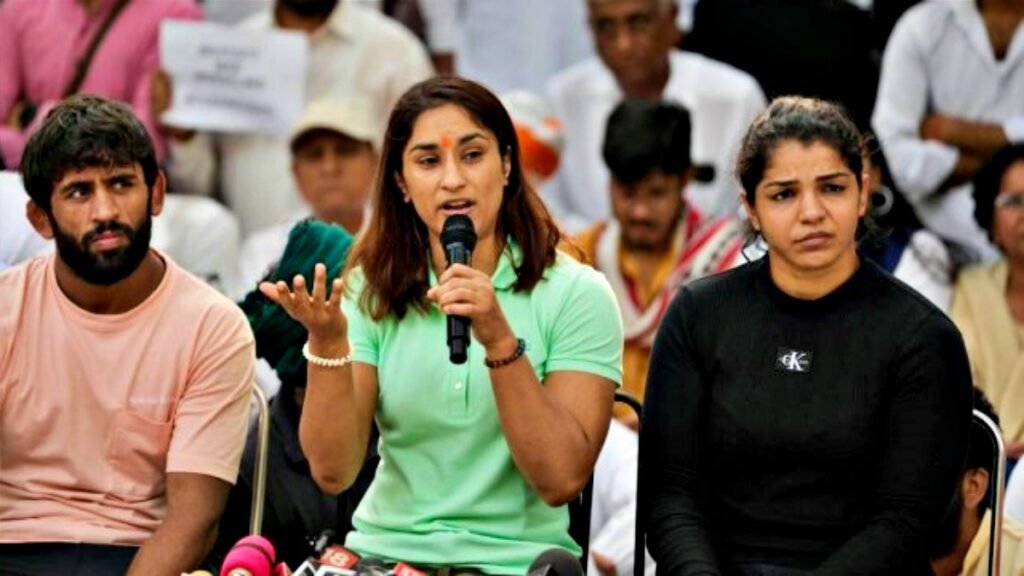 On Anurag Thakur's statement that he spent 12 hours with the wrestlers and the government was with them, Poonia said, "Out of those 12 hours, Thakur was present hardly for 12 minutes. When asked why he did not go back to the Sports Ministry, Poonia said, "The Sports Minister does not pick up our calls. The Indian sports fraternity on Friday came out in support of the protesting wrestlers with Neeraj Chopra demanding immediate action. Besides them, boxer Nikhat Zareen, tennis star Sania Mirza, hockey star Rani Rampal, and cricketers Virender Sehwag, Harbhajan Singh, Irfan Pathan, and Madan Lal also extended their support to the wrestlers.