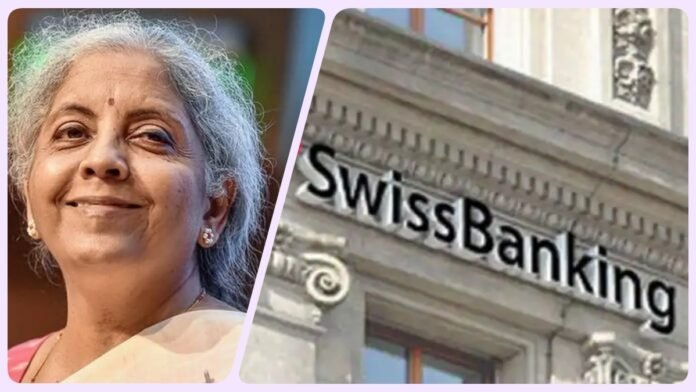 How is Finance Minister Nirmala Sitharaman pretending to be unaware of Indian black money stashed in foreign banks? During the 2014 general elections, the BJP was showing a very aggressive attitude regarding this black money. Then PM Narendra Modi said that 15-15 lakh rupees will be deposited in the bank account of every Indian by bringing back black money from abroad. This was a sign that Indians have huge deposits in foreign banks.
Now when asked about the money deposited by Indians in Swiss banks, Finance Minister Nirmala Sitharaman said that there is no official estimate of the amount deposited by Indian citizens and companies in Swiss banks. Does this mean that the government is hiding the reality? It is worth mentioning that a few years ago, through the German government, the government had received information about the amount of Indians deposited in Swiss banks, but then the government argued that due to international conditions, this information could not be given to the general public. This means that the government wants to keep this information limited to itself.
Deposit amount increased
It was said that there has been an increase in the amount deposited by Indians in Swiss banks. This amount was more than what it was in 2020, in 2021. It has not been clarified in the report that the money deposited in Swiss banks is all black money of Sara. Swiss authorities have reported that the annual banking data of the Swiss National Bank should not be used by India to analyze deposits in Switzerland.
Who deposit money in foreign banks
It is estimated that big politicians, industrialists, people associated with the film world, and hawala traders hide their undeclared income in foreign banks. They do not get interested in it but have to pay only those banks to keep the money secretly. To deposit money in these banks, one does not have to travel to Switzerland, but the agent there himself comes and takes the money. A person who has an account in a Swiss bank, through him other people go on joining.
The number of billionaires in India has increased in recent years, so it is natural for Swiss bank deposits to increase as well. People turn to foreign banks to dispose of the money saved by tax evasion. Apart from this, the amount of commission taken in bribery, smuggling, and big deals is also included in this.
What is its use
The amount deposited in a Swiss bank is useful for making business deals abroad, opening a business unit, or making payments in foreign currency. Filmmakers use foreign bank deposits for the purpose of giving money to hero-heroines for shopping or vacations for shooting their films in foreign locations.
It can be freely withdrawn or deposited without any formalities. There is no one to ask about the source of money or income. There is no limit on deposits either. Only the money deposited there on time abroad is useful. In view of the uncertainty of politics, politicians also deposit huge sums of money in foreign banks so that they can be used on time or deposited for the next generations.
There are more places
Not only Swiss banks, but people also deposit their black money in such small countries as the Seychelles Islands, Mauritius, and Caribbean Islands which are called tax havens. These countries include Bermuda, Netherlands, Luxembourg, Cayman Islands, Singapore, the Channel Islands, Isle of Man, Ireland, etc. Some countries even give citizenship to their place on depositing a big amount, like diamond trader Mehul Choksi got citizenship of Antigua.