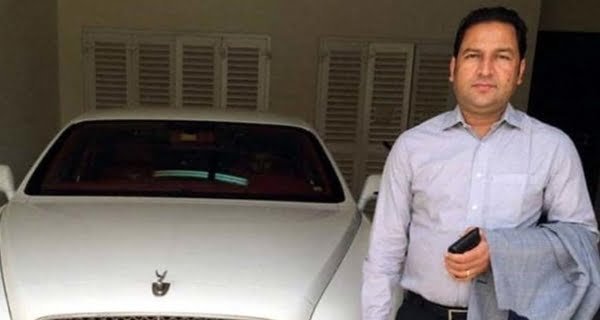 Jaipur: In the midst of the ongoing political crisis in Rajasthan, an audio has gone viral about the downfall of the Gehlot government. In this case, the Special Operations Group has arrested Sanjay Jain, a hotelier from Jaipur.
After Sanjay Jain's arrest, senior BJP leader Manikchand Surana, while clarifying this, has described the viral clip as fabricated. On behalf of Surana, Surendra Singh Shekhawat said, Sanjay Jain has nothing to do with the former finance minister. At the same time, Sanjay Jain has no information about this case.
After the audio went viral, Congress leader Mahesh Sharma filed a complaint against Sanjay Jain alias Sanjay Baradia as well as Union Minister Gajendra Singh Shekhawat. The viral audio is claimed to have conversations of Congress MLA Bhanwarlal Sharma with Sanjay and Gajendra Singh Shekhawat. Sanjay became active in Jaipur politics almost two decades ago.
The BJP has dubbed those 'audio clips' concocted on Friday, citing that the Congress is accusing the saffron party of trying to topple its government in Rajasthan. The BJP said that the Congress was in despair over being unable to maintain its home. BJP spokesperson Sambit Patra mentioned that Congress chief spokesperson Randeep Singh Surjewala had said soon after Sachin Pilot's rebellion that "if a house contains utensils, they ring."
He said, "Congress is trying to suppress the sound of these utensils with concocted audio. Patra said, "The Congress is blaming the BJP for not running its house, but the truth is known to the public." It is noteworthy that the Congress on Friday demanded the arrest of Union Minister and BJP leader Gajendra Singh Shekhawat and rebel MLA Bhanwarlal Sharma.
In fact, two 'audio clips' related to the plot to topple the state's Ashok Gehlot government have been revealed. Surjewala targeted the central government, alleging that he was busy toppling the Congress governments during the corona virus epidemic. At the same time, Union Minister Shekhawat dismissed the allegations leveled against him and said that he does not have a voice in these audio recordings and he is ready to face any investigation.