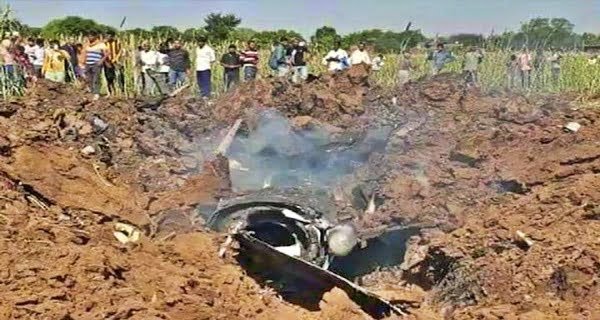 Gwalior: Airforce fighter plane crashed in the rugged Babadi village of Bhind district. The plane crashed into the field. A large part of the plane hit the ground. The pilot is slightly injured. The villagers informed the police about this. The police have left on the spot. The information of the incident has been given to the officers of Gwalior Air Force. His team is also reaching the spot. It is reported that the plane was split into two parts after the accident. But in the accident, the pilot Lt. Abhilash is safe and has suffered minor injuries.
Police and administration officials have reached the spot and rescue and relief work is being done rapidly, the plane fell in a field and when the villagers saw the Airforce plane falling in the field, they rushed to the spot, after which the pilot was nearby. Abhilash has been found in a safe condition. The plane is said to be a MiG 21 of the Air Force and the plane started breaking into pieces in the sky itself. It has been told that some pieces of the plane also fell on the nearby houses, after which the plane caught fire, then pilot Lieutenant Abhilash landed safely with the help of a parachute. Even 2 years ago, the fighter plane of the Air Force had fallen in Bhind's lap, due to the air force station in Gwalior, fighter planes practice with fighter planes in the morning. It is believed that this accident happened during practice.
The plane crashed due to a technical problem, the pilot narrowly escaped
According to the information, an Air Force plane whose pilot, Lieutenant Abhilash, was serving alone in it, only then a technical problem arose in the aircraft, only then, the pilot, protecting himself in time, jumped from the plane through a parachute, and the plane crashed. The countryside fell into the Pura of Mana under the police station area and the pilot fell into the Parshuram Pura, about two to three kilometers away under the Umri police station area.
At present, in addition to the police administration, the traffic police are trying to drive the villagers away from the incident point, senior officers of the Air Force are in constant contact, and after reaching a short time to investigate closely, whether this plane has crashed due to technical problems. , all the searches will start in some time. People saw the plane falling into pieces in the sky, then there was a stir, meanwhile saw a soldier flying in the sky with a parachute, who fell in the field after a while. A crowd of people gathered there.