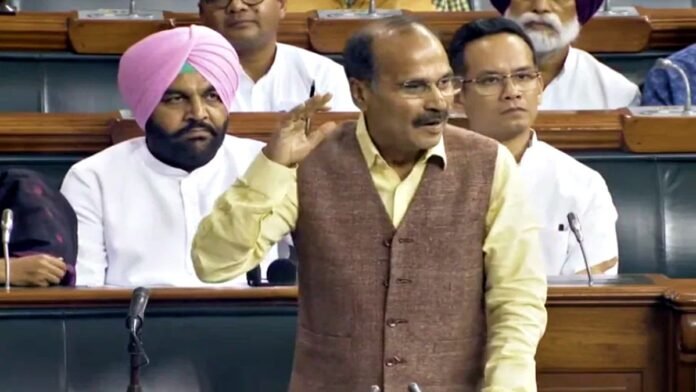 New Delhi: Congress leader Adhir Ranjan Chowdhary has been suspended from the House for using abusive words about Prime Minister Narendra Modi during the discussion on the no-confidence motion in the Lok Sabha and his case has been sent to the Privileges Committee of the House.
Lok Sabha Speaker Birla, after accepting the motion presented by Union Minister Pralhad Joshi in the House, sent the matter of investigation of Adhir Ranjan Chowdhary's continuous behavior in the House to the Privileges Committee of the House till the report of the Committee is received. announced suspension from
The motion of contempt of the House and the Speaker against Adhir Ranjan Chowdhary was raised by Parliamentary Affairs Minister Pralhad Joshi and demanded a breach of privilege and his suspension. The Speaker has accepted the breach of privilege motion. Until the report of the breach of privilege committee comes, Adhir Ranjan will remain suspended. This proposal was brought against the behavior of Adhir Ranjan.
When this proposal for his suspension was passed in the House, at that time MPs of Congress and many other opposition parties including Adhir Ranjan Chowdhary were not present because they had walked out of the House during the Prime Minister's speech.