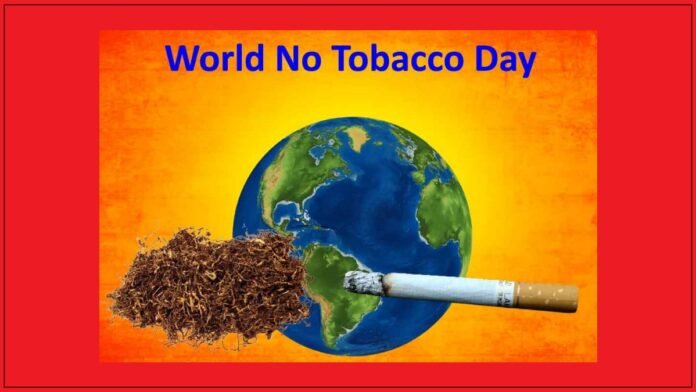 New Delhi: 'World No Tobacco Day' is celebrated every year on 31 May. The purpose of which is to tell and make people aware of the dangers of tobacco. So that they can avoid it themselves as well as stop other people from it. We are all aware that tobacco causes a lot of damage to health. But do you know that every year more than 8 million people die worldwide due to the consumption of tobacco?
Apart from the human cost, tobacco consumption also damages the environment. Tobacco consumption is one of the factors believed to adversely affect efforts to achieve the Sustainable Development Agenda adopted by the United Nations by 2030, which aims to bring tobacco-related deaths to an end by that time. To reduce by one-third. Let's know the history, importance, and theme of 'World No Tobacco Day'
History
Millions of people are dying due to the consumption of tobacco in the world. In view of the death due to the consumption of tobacco (bidi, cigarette, gutkha, etc.) in the world, the World Health Organization announced to celebrate World No Tobacco Day in 1987. However, for the first time, this day was celebrated on the 7th of April. But after that, its proposal was passed on 31 May 1988, and after that World No Tobacco Day was celebrated every year on 31 May.
The Member States of the World Health Organization created World No Tobacco Day in 1987 to draw global attention to the tobacco epidemic and the preventable death and disease it causes. In 1987, the World Health Assembly passed Resolution WHA40.38, calling for 7 April 1988 to be "a world no-smoking day." In 1988, Resolution WHA42.19 was passed, calling for the celebration of World No Tobacco Day, every year on 31 May.
Importance
The main purpose of celebrating 'World No Tobacco Day' is to spread awareness among people about the dangers of tobacco and its negative effects on health. Not only this but also to reduce the diseases and deaths caused by nicotine business and tobacco consumption.
What is the theme of 'World No Tobacco Day' this time?
May is on 31st. This year the theme is "We need food, not tobacco" (We need food, not tobacco). Over the years, World No Tobacco Day has focused on a number of topics. These include tobacco advertising, second-hand smoke, tobacco taxation, tobacco industry intervention, tobacco packaging, and youth prevention.
This year WHO recommends The 2023 WNTD campaign calls on governments and policy-makers to step up legislation, develop suitable policies and strategies, and enable market conditions for tobacco farmers to shift to growing food crops that would provide them and their families with a better life. The WHO Framework Convention on Tobacco Control offers specific principles and policy options on the promotion of economically viable alternatives for tobacco workers, growers, and individual sellers (outlined in Article 17), and on enhancing the protection of the environment and the health of people (Article 18). The implementation of these provisions should be strengthened in countries.