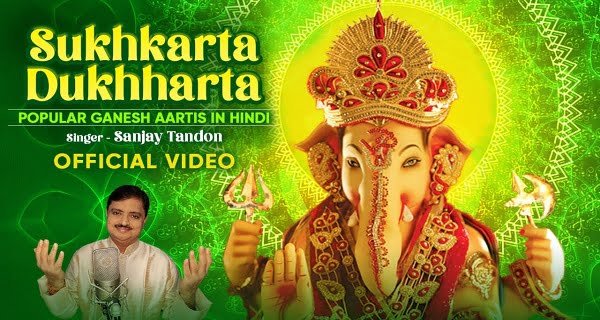 Mumbai: The tone of this Ganeshotsav will be unique this time. Innumerable devotees of Lord Ganesha have been wanting that the evergreen Marathi Aarti "Sukhkarta Dukhharta Varta Vighnayachi" should be in Hindi also and that too with all the necessary punctuation marks, weight, and effect. Raviraj Pranami has transcribed it in Hindi as it should have been. Times Music has fulfilled our wish just before Ganesh Chaturthi in the form of offerings to Lord Ganesha. This much-awaited Hindi version is sung by Sanjay Tandon in his Bappa dedicated vocals and Sanjeev Kohli has adjusted the music in such a way that it can be established all over the world forever.
This Marathi aarti has such a grand effect that even non Maharashtrians perform it during Ganesh Vandana.
Now that it has been converted into Hindi, this more dedication is with us in the form of praise-filled with affection and devotional effect of Ganesha. With its Hindi presentation, Ganesh devotees will also be able to understand its full meaning.
With the aim of fulfilling everyone's inner desires, the worship of Lord Shiva and Mother Durga associated with this aarti has also been kept in simple Hindi.
This ten-minute Vinayaki cheerleader spreads the hypnotism of Lord Ganesha in the soulful voice of Sanjay Tandon, the ardent devotee of Lord Ganesha.
Lyrics In English:-
Om Naad ( 5 Times)
Vakratunda Mahakaaya
Suryakoti Samaprabha
Nirvighnam Kuru Me Deva
Sarvakaaryesu Sarvadaa
Sukhkarta Dukhharta Hey Vighnahaari
Mangal Keerti Prem Kripa Tumhari
Sarvang Sundar Chavi Sindoor Saaje
Kanthi Jhalke Mala Deva Viraaje
Jaidev Jaidev
Jaidev Jaidev Jai Mangal Murti
Ho Shreemangal Murti
Darshan Maatre Se Ho Kaamanaa Poorti
Jaidev Jaidev
Ratno Se Sajjit Tum Hey Gaurinandan
Kumkum Kesar Akshat Maathe Pe Chandan
Heerejadit Mukut Shobhit Nyara
Runjhunti Nupur Laage Ati Pyara
Jaidev Jaidev
Jaidev Jaidev Jai Mangal Murti
Ho Shreemangal Murti
Darshan Maatre Se Ho Kaamanaa Poorti
Jaidev Jaidev
Lambodar Pitaambar Phaldhar Vandana
Saral Mund Vakratunda Trinayana
Aatur Hai Ghar Ghar Shree Tumhein Nevatna Sankat Mochak Dev Muktikarak Dev Surmay Vandana
Jaidev Jaidev
Jaidev Jaidev Jai Mangal Murti
Ho Shreemangal Murti
Darshan Maatre Se Ho Kaamanaa Poorti
Jaidev Jaidev
Shendur Laal Chadhaayo Acha Gajamukh Ko
Dondil Laal Biraaje Sut Gauriharko
Haath Liye Gudladdu Sai Survarko
Mahimaa Kahe Na Jaay Laagat Hun Padko
Jaidev Jaidev
Jai Jai Shri Ganaraaj Vidyasukhadata
Dhanya Tumharo Darshan Mera Man Ramta
Jaidev Jaidev
Ashto Siddhi Daasi Sankatko Bairi
Vighanvinashan Mangal Murat Adhikari
Koti Suraj Prakash Aisi Chabi Teri
Gandasthal Madmastak Jhoole Shashi Bihari
Jaidev Jaidev
Jai Jai Shri Ganaraaj Vidyasukhadata
Dhanya Tumharo Darshan Mera Man Ramta
Jaidev Jaidev
Bhaavabhagatse Koi Sharanaagat Aave
Santat Sampat Sabahi Bharpoor Paave
Aise Tum Maharaj Moko Ati Bhaave
Gosaavi-nandan Nishidin Gun Gaave
Jaidev Jaidev
Jai Jai Shri Ganaraaj Vidyasukhadata
Dhanya Tumharo Darshan Mera Man Ramta
Jaidev Jaidev
Lap-lapti Vikarala Brahmandiya Mala
Vishmay Kanth Kaala Trinetri Jwaala
Laavanya Sundar Jata Gangawala
Tham Jaaye Jal Nirmal Sohe Nirala
Jai Dev Jai Dev
Jai Dev Jai Dev Jai Shri Shankara Ho Swami Shankara
Aarti Utaarun Hey Karpoorgaura
Jai Dev Jai Dev
Karpurgauram Bhole Nayana Vishala
Ardhangi Parvati Pushpon Ki Mala
Vibhuti Chadhi Deh Hai Kanth Neela
Aise Shankar Shobhit Uma Ki Leela
Jai Dev Jai Dev
Jai Dev Jai Dev Jai Shri Shankara Ho Swami Shankara
Aarti Utaarun Hey Karpoorgaura
Jai Dev Jai Dev
Devon Daitya Sagar Manthan Pe Aaye
Joojhe Anchahey Halahal Le Aaye
Shiiv Tum Asurpan Praasan Kar Aaye
Neelkanth Naam Prasiddhi Paaye
Jai Dev Jai Dev
Jai Dev Jai Dev Jai Shri Shankara Ho Swami Shankara
Aarti Utaarun Hey Karpoorgaura
Jai Dev Jai Dev
Vyaghraambar Dharnidhar Sundar Madnari
Panchanan Manmohan Munijan Sukhkaari
Shatkoti Mantr Nisdin Japkaari
Raghukul Tilak Ramdas Hai Pujari
Jai Dev Jai Dev
Jai Dev Jai Dev Jai Shri Shankara Ho Swami Shankara
Aarti Utaarun Hey Karpoorgaura
Jai Dev Jai Dev
Durge Utkat Hove Tujh Bin Sansari
Anath Nath Hey Ambe Karuna Tumhari
Vaaro Vaaro Jeena Marna Hai Bhaari
Haare Baithe Maate Sankat Nivari
Jaydevi Jayadevi
Jaydevi Jayadevi Mahishasur Mardni
Ho Mahishasur Mardni
Sarvar Eshwar Varde Vipda Sanjivani Jaydevi Jayadevi
Tribhuvan Bhuvani Maa Tujh Jaisa Na Koi
Charon Padhe Parantu Naa Ved Koi
Darshan Vivaad Ka Bhi Paaya Na Koi
Kintu Bhakti Se Tujhe Paaye Har Koi
Jaydevi Jayadevi
Jaydevi Jayadevi Mahishasur Mardni
Ho Mahishasur Mardni
Sarvar Eshwar Varde Vipda Sanjivani
Jaydevi Jayadevi
Prasanna Ambe Prasanna Hoti Daason Par
Kleshon Se Gati Mukti Bhavpaason Par
Ambe Tu Rakh Dhyan Ardaason Par
Narnaari Talleen Charni Saanson Par
Jaydevi Jayadevi
Jaydevi Jayadevi Mahishasur Mardni
Ho Mahishasur Mardni
Sarvar Eshwar Varde Vipda Sanjivani
Jaydevi Jayadevi