New Delhi: Today i.e. on 29th July, International Tiger Day is celebrated all over the world. The main purpose behind celebrating this day is, under these objectives, this 'International Tiger Day' is celebrated every year. The purpose of celebrating this day is to create awareness among people to conserve tigers and save their natural habitat. That's why this day is celebrated all over the world so that people understand the importance of tigers. Let us know some important information related to this day.
International Tiger Day begins
We all know that tigers have been kept on the list of endangered species of wildlife anyway and national campaigns like 'Save the Tiger' have been run for their conservation. In order to encourage tiger conservation and to make aware of the declining numbers of tigers, a conference was held in Saint Petersburg, Russia in 2010, in which it was announced to celebrate International Tiger Day. In this, a target was set to double the number of tigers by 2022. Because of this, this day is celebrated all over the world.
5 famous tiger reserves in the country
The national animal of our country is the tiger. For information, let us tell you that there are a large number of tiger sanctuaries in different states in India. If you are curious to see tigers and want information about them, then you can visit these best tiger reserves on the occasion of World Tiger Day to see tigers. Today, on International Tiger Day, we are going to tell you about 5 famous tiger reserves of the country.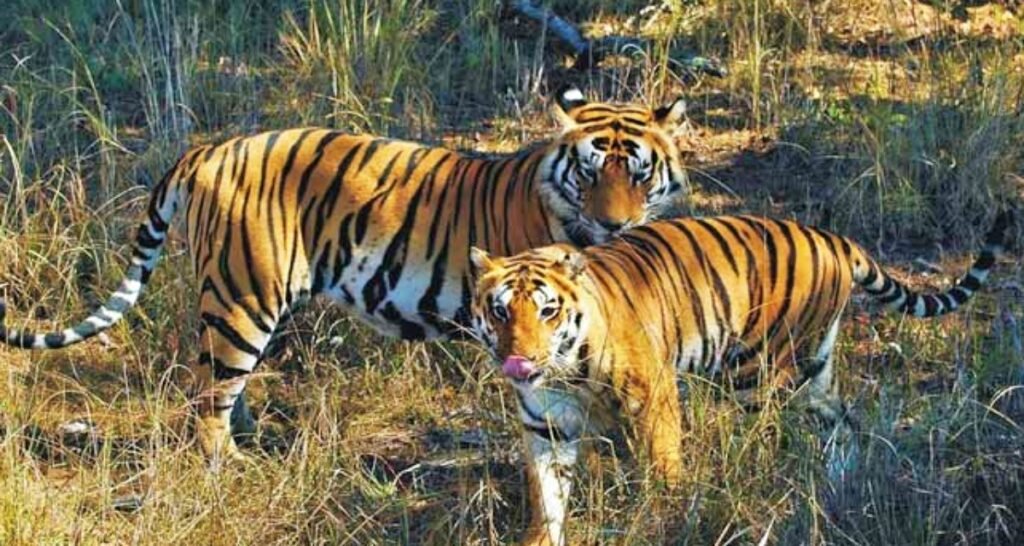 Bandhavgarh Tiger Reserve, Madhya Pradesh
B. India has many features, one of them is these 5 famous tiger reserves in India. Yes, Bandhavgarh Tiger Reserve ranks high in the list of best tiger reserves in India. Let us tell you that thousands of tourists come here every day. Buses in Madhya Pradesh This sanctuary has the highest number of Royal Bengal Tigers. Not only this, but this national park, spread over a distance of 820 sq km, also houses the ancient Bandhavgarh Fort. Bandhavgarh Tiger Reserve with its rich biodiversity, natural beauty and glorious history attracts people to visit, and explore this sanctuary.
Periyar Tiger Reserve, Kerala
Not only this but if you want to enjoy the breathtaking beauty and amazing wildlife in Kerala then Periyar Tiger Reserve can be the best option for you. It is one of the famous tiger reserves of India and has a large population of Bengal tiger, white tiger, Asian elephants, wild boar, and sambar. It also has an artificial lake with a total area of ​​about 777 sq km, which adds to its beauty and charm.
Sunderbans Tiger Reserve, West Bengal
The Sundarbans Tiger Reserve is a World Heritage Site and an important site of the Royal Bengal Tiger. The specialty of this Tiger Reserve is that it also houses a significant number of endangered species including aquatic mammals, birds, and reptiles. However, unlike most national parks in the country, the Sundarbans do not offer jeep safaris. Instead, you will have to resort to boats for transportation and sightseeing around the area.
Jim Corbett Tiger Reserve, Uttarakhand
Jim Corbett Tiger Reserve, situated in the foothills of the Himalayas, is an important tiger reserve in India. Spread over a vast area of ​​500 sq km, this national park was established in 1936. There are few tiger reserves as lush green as this Jim Corbett present in Uttarakhand. So this time you can enjoy a fascinating jungle safari or a thrilling journey in the middle of the jungle.
Ranthambore Tiger Reserve, Rajasthan
Once the hunting ground of the Maharajas of Jaipur, Ranthambore is today one of the largest tiger reserves in India. There is a large number of tigers here and it is spread over an area of ​​1.134 sq. km. It is particularly known as the abode of Bengal Tigers. Apart from tigers, you can also spot other species here, including bears, hyenas, foxes, and jackals.